What import duties do I need to pay for Japan Customs?
Japanese customs impose an 8% value-added tax on almost all imported items. Shipping to Japan,You may also have to pay customs and excise taxes and other charges.
Be sure to fully understand current Japan import charges and disclose all the contents of your shipment to the forwarder so they can provide you with an accurate estimate.
If you don't want to pay taxes yourself, we also have delivery options including taxes, door-to-door, including all fees. You just have to wait for the package to arrive after paying us the shipping fee and we will handle it for you. This is a special shipping route from China to Japan, including shipping costs, taxes, export clearance, and import clearance.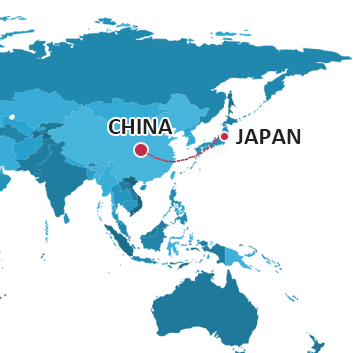 How to reduce shipping costs?
If you are familiar with the destination country, we invite you to consider using the door-to-port service. However, this is not possible for every destination. You can choose to pack your inventory yourself to reduce the cost of origin. Remember, your personal packs must still be professionally loaded by our overseas movers. Shipments that pack your own must also be shipped professionally for export and can only be insured for total loss.
How to estimate the cost of air freight?
Unlike ocean freight costs, which are based on volume alone in most cases, air freight charges are based on volume or weight. In air freight, if the dimensional weight exceeds the actual weight, the dimensional weight applies.
What type of box should I use to store household items?
Always use new boxes and materials. Never use old boxes or pre-used boxes to ship your items. Old supermarket boxes may cost nothing, but they don't have good padding, are not strong enough to withstand international shipping, and often cause damage to your items.
How can I make sure my shipment arrives safely?
While we take all possible precautions, we encourage every customer to purchase insurance to cover their shipment in the event of damage or loss in transit. We are happy to help you choose the right insurance. We can even walk you through the process.
What's the best way to protect fragile items
Make sure our overseas shipping staff understands that your box contains your fragile items. Our team will let you know if your valuables should be packed in a more protective box. In general, the larger the item, the tighter the box should be around it. Label all fragile items that contain boxes as "Fragile".
When is my payment due?
Payment should be made after the goods are shipped. If you choose to have us pick up your item at your supplier facility, payment will be required after pickup. We will send and provide a tracking number that will allow you to track the status of your shipment online, at which point you can arrange payment to our corporate account.
Professional and powerful logistics provider
DDP FOR WORLD was established in 2015 focusing on the overseas market. We are one of the leading international logistics companies in China with experienced and professionally trained staff handling Amazon FBA shipments, DDP shipping, Sea shipping, FCL, LCL, Air shipping, Express shipping, DG Cargo Shipping and e-business packages, etc. offering one-stop shipping solutions.