The importance of Amazon FBA
As one of the most complex and cost-effective fulfillment methods in global e-commerce, Fulfillment By Amazon (FBA) is a very popular way to ship goods from China to the United States. The service helps businesses quickly manage inventory and expand operations. FBA enterprises can leverage Amazon's warehouses, vast network, fulfillment centers, and customer service to accelerate growth and drive high turnover.
Choosing the right mode of transportation and fulfillment strategy is one of the most important decisions for any FBA business. A reputable freight forwarder like DDPFORWORLD can make shipping easy. We help you understand the process, minimize problems, and maximize profitability. In addition to choosing a reliable freight forwarder, there are several other factors to consider to make your shipping from China to Amazon FBA easy.
Choose FBA's simple shipping strategy from China to Amazon
One of the most critical steps in the process is determining the mode of transportation. There are two main ways to ship your goods from China to Amazon. These include using third-party logistics (3PL) suppliers or shipping directly from China.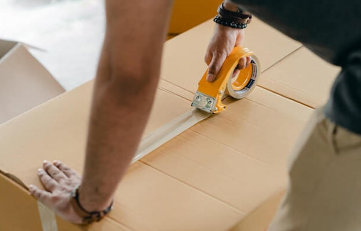 Third-party Logistics (3PL) provider
3PL is an independent service provider that provides storage, distribution, transportation and fulfillment services to enterprises. 3PL is useful for e-commerce businesses that do not have the ability to effectively fulfill orders.
3PL can provide an end-to-end solution, picking up items at source and taking care of shipping all items until they arrive at Amazon facilities.
Because 3PL can serve a variety of businesses simultaneously, they are a cost-effective option that can help facilitate rapid growth or introduce new product lines. As a professional service provider, reputable 3PL is a reliable source for transporting goods overseas. What's more, because of the volume they ship regularly, they usually offer lower shipping costs.
If you switch suppliers or are using a new manufacturer, 3PL can help ensure that all aspects are in order before shipping. For first-time consigners from China, 3PL will handle the necessary paperwork to ensure your shipment goes through customs clearance smoothly. By combining shipping, you can benefit from competitive shipping rates.
At DDPFORWORLD, we can handle all your shipping from China to the United States. We manage logistics, pay tariffs, help clear your products and take care of last-mile deliveries. While you focus on your business, we can ensure that your goods arrive at their designated FBA warehouse.
Shipping direct to Amazon
If you have the knowledge, experience, and resources, shipping your products directly to Amazon is another option. Shipping directly to the FBA Operations center can save you thousands of dollars in potential 3PL charges, depending on your shipment size. But choosing to undertake the transportation process yourself introduces many complications.
One of the problems many businesses encounter when shipping directly to FBA is the requirement to send items to multiple fulfillment centers (especially for large items). Although you can resolve this issue through Amazon's seller center, it may interrupt and prolong the shipping process. Another problem with some Amazon sellers handling their own shipping is the lack of company representation at factories that manufacture products in China. Hiring a freight forwarder to handle field tasks helps ensure that manufacturing, quality control, labeling, packaging and distribution are handled efficiently.
Decided transport: air and sea
To get your goods from China to the United States, there are two direct modes of transportation. You can choose to have your goods shipped by sea or air, depending on your budget and how quickly you need to get your items to Amazon FBA.
Since shipping is a fraction of the cost of air freight, it is often the only viable option for Amazon enterprises. However, the merits of both approaches are worth considering before making a final decision.
Sea Shipping
Sea transport is the cheapest way to transport goods over long distances. Goods transported by sea can be organized very efficiently. You can combine small shipments to fill containers, improving shipping efficiency and allowing sellers to take advantage of lower shipping costs.
Sea transport is essential for large, heavy and bulky cargoes. Large ocean liners can carry about 23,500 20-foot equivalent units (TEUs), meaning they can transport large amounts of cargo between China and the United States. They are also designed to safely transport dangerous goods and hazardous materials, such as corrosive chemicals. Containers may be locked and sealed during transport for added security.
Shipping is often preferred by environmentally conscious retailers. It has a smaller carbon footprint than other modes of transportation, including air freight.
The main disadvantage of sea transportation is the transportation time. Depending on the location of Amazon's facilities, sea shipments from China can take 40 days or more to arrive. Port congestion, customs problems and other delays could further slow shipments.
Air freight
Air transport involves moving your cargo through an air carrier, such as an airliner, commercial aircraft, or supercargo aircraft. This is an expedited mode of transportation, by far the fastest. A flight from China to the United States takes about 15 hours, while shipping can take weeks.
Air freight is also one of the most expensive ways to ship products from China to the United States. According to the World Bank, air freight can cost 12 to 16 times more than sea freight. This is a good choice for time-sensitive orders or lightweight, high-value items.
DDPFORWORLD-Professional freight forwarder in China
DDP for World is a full-service and shipping forwarder dedicated to assisting our clients in focusing and growing their businesses. Shipping to Canada: Professional freight forwarder provide DDP shipping from China to Canada by FCL, LCL shipment with sea shipping, air freight or express; competitive price, timely & safety. Door to door delivery to Amazon FBA warehouse, Business address and Private address, Various shipping time can meet with your unique needs.
Contact DDPFORWORLD:
Phone: +86 18682082113
Email: info@ddpforworld.com
Wechat/Whatsapp: +86 18682082113